Please note that our new payment website is now online. We have changed our online payment process to better serve our customers with more payment options. You will now be able to pay directly from your checking account online with an e-check as well as your credit or debit card.
NO PROPERTY TAX PAYMENTS WILL BE ACCEPTED THROUGH THIS SITE
Please click on the following link to pay your current bill online: MHOG Online Bill Payments.
NOTE: This online payment site does not store payment methods so it is not necessary to create a username and password.
To look up a MHOG Utilities account's history and check current balances, please click on the following link: MHOG Online Account Information. Just enter the numeric address or the 9 digit account number for the fastest search.
NOTE: If you are a title company and your address search shows no results. Please give us a call to confirm the home is well & septic or paid by the home's association fees.
For Recurring Payments submit the ACH Authorization Form found below.
We are pleased to offer a new convenient payment method for customers: Auto Payment using an ACH Auto Debit from your checking or savings account. Recurring payments are only offered with this payment option. Your quarterly utility bill will be automatically paid as an electronic withdrawal from your bank account on the billing due date every three months. The authorization form can be found below and printed off and submitted. You can also contact us at (800) 881-4109 to request one.
Just double click on the form to download electronically.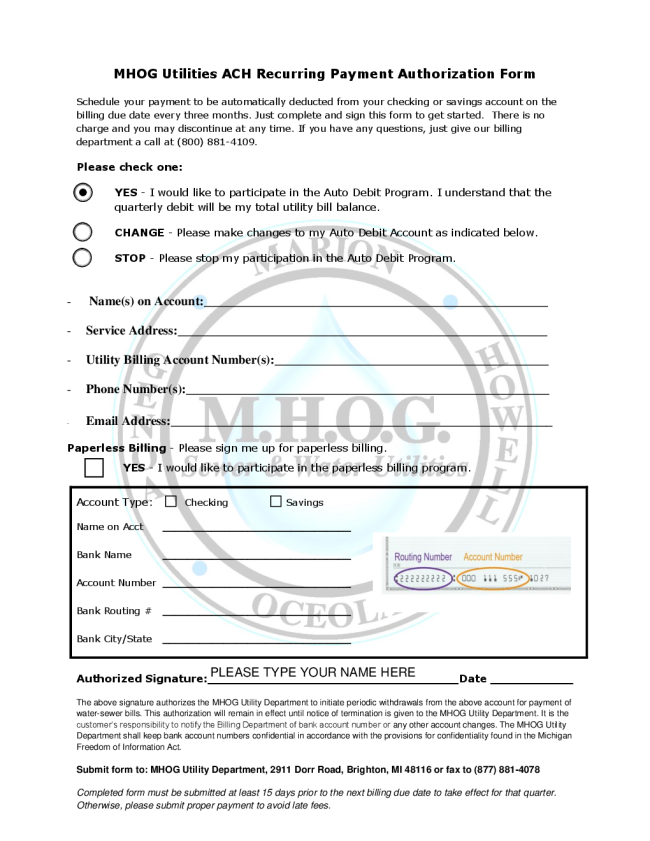 Click on this form to download a copy.