The MHOG Utility Department
Proud to Serve:
Municipal water customers in the townships of Marion, Howell, Oceola, and Genoa and sanitary sewer customers in the townships of Genoa and Oceola
For a Sewer or Water
Emergency!
Active Projects
WWTP Expansion
April 25 - October 1, 2018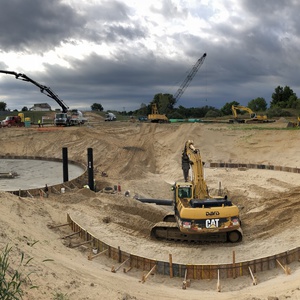 Genoa- Oceola WWTP – Issued April 2018
The Genoa –Oceola Sewer and Water Authority is initiating an expansion to its Wastewater Treatment Plant (WWTP). Construction is planned to begin in May 2018 on an expansion that will double the plant's current 1.6 Million Gallon per Day (MGD) treatment capacity. The plans include constructing a flow split structure, a duplicate oxidation ditch, and two final effluent clarifiers with a total construction cost of $8.5 Million.
Expansion of the plant is necessitated by increased average daily flow to the plant over the past several years due to growth in the system as well as receiving storm flows that exceed the plants current rated capacity. Despite this increase loading the Genoa-Oceola plant has remained in compliance with all of its state and federal permit requirements. However, with a 14 month construction schedule and continued development in the plant's service area, the Authority Board chose to be proactive and proceed with the expansion.
Following a nearly 15 month design process, the project was bid in April 2018 and the firm selected for the project is Davis Construction located in Lansing, MI. It is anticipated that the project will be completed in the summer of 2019. Financing for the project has been provided by Oceola and Genoa Townships through their tap fee collection as well as a capital improvement revenue bond issued by the Authority.